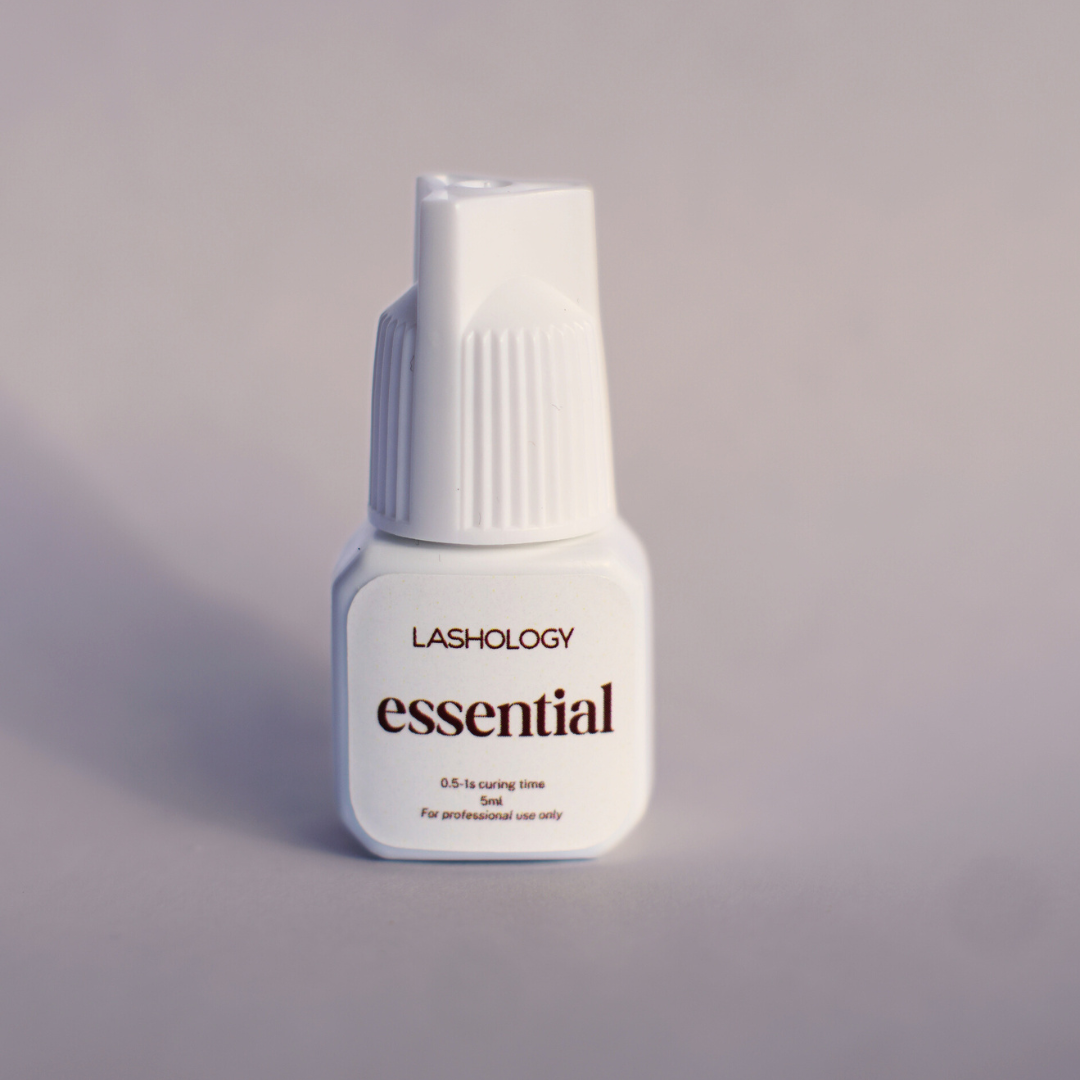 'Essential' Adhesive
Discover the secret to achieving lasting lash retention, lasting between 4 to 8 weeks, with a reliable adhesive you can trust - previously known and loved by lash artists as 'High Roller' and 'Slow it Down'

Introducing Lashology's Essential adhesive, the key to having your clients return with fuller sets, resulting in quicker fills and overall better client experience. The product's exceptional quality is a testament to its carefully curated formulation, crafted to meet the highest standards.
Lashology's founder was once in your shoes, unsure about the complexities of lash adhesives and susceptible to clever marketing ploys promising great retention. The disappointment from falling short of promised results led to a determined quest for the perfect adhesive. With extensive research and self-education, this adhesive was born - one that can confidently carry the Lashology name and uphold its reputation.
In choosing this adhesive, you eliminate the tiresome trial-and-error phase. It has been designed to meet all your requirements, leaving you with nothing but gratification upon its use.
We understand the frustration of using an adhesive that performs well but lacks that extra touch of excellence. That's where Essential bridges the gap, providing the solution you've been seeking.
Sale price

$47.00 USD
Regular price
(/)
What is the difference between Quantum and Essential?

Very few adhesives can perform best in high humidity and even less can perform in humidity over 70%. Quantum is able to work in a large range, between 40%-80% (performing best over 60%), making is the perfect glue for unstable environments, environments that have a high humidity or humid summer months.

Essential is an all rounder that works with a smaller humidity range of 40%-70% and is best used in environments that consistently falls within this range. Essential works optimally in a humidity range of 40%-70% and a temperature range of 21C-28C however it can work in a humidity range of 30%-70% and a temperature range of 18C-28C.
How do I know Essential is right for me?

If your environment is as follows:
Humidity falls anywhere between 35%-70% and temperature falls between 18C-28C and you enjoy working with a thicker glue, you will love Essential.

If you require any assistance, please reach out to our support team at hello@lashology.com
How To Use

Properly open the nozzle with the help of a nozzle pin, which will allow you to control the glue application precisely.

Before using the glue, give it a thorough shake for approximately one minute. This step is crucial as it ensures all the ingredients are well combined, optimizing its performance.

Storage is an important aspect to consider. When unopened, Essential has a shelf life of eight months, providing you with ample time to use it. However, once opened, it is best to use the glue within 4 to 6 weeks for optimal results. Please note that this product is intended for professional use only and must be kept out of reach of children and away from direct sunlight. Additionally, there is no need to refrigerate the glue after opening, but be sure to shake it again for a minute before each use to maintain its effectiveness.
Optimal Conditions

Essential Adhesive '0.5s Curing':
Temperature: 18-28℃
Humidity: 40-70%RH

Essential Adhesive '2s Curing':
Temperature - 18-28 ℃
Humidity: 40-70%RH

Please note that the higher the humidity and temperature in your working space, the quicker the glue will cure. The lower it is, the slower the glue will cure. 
Ingredients

Ethyl 2 cyanoacrylate, Poly Methyl Methacrylate, Carbon Black,
'Essential' Adhesive
Sale price

$47.00 USD
Regular price
Choose options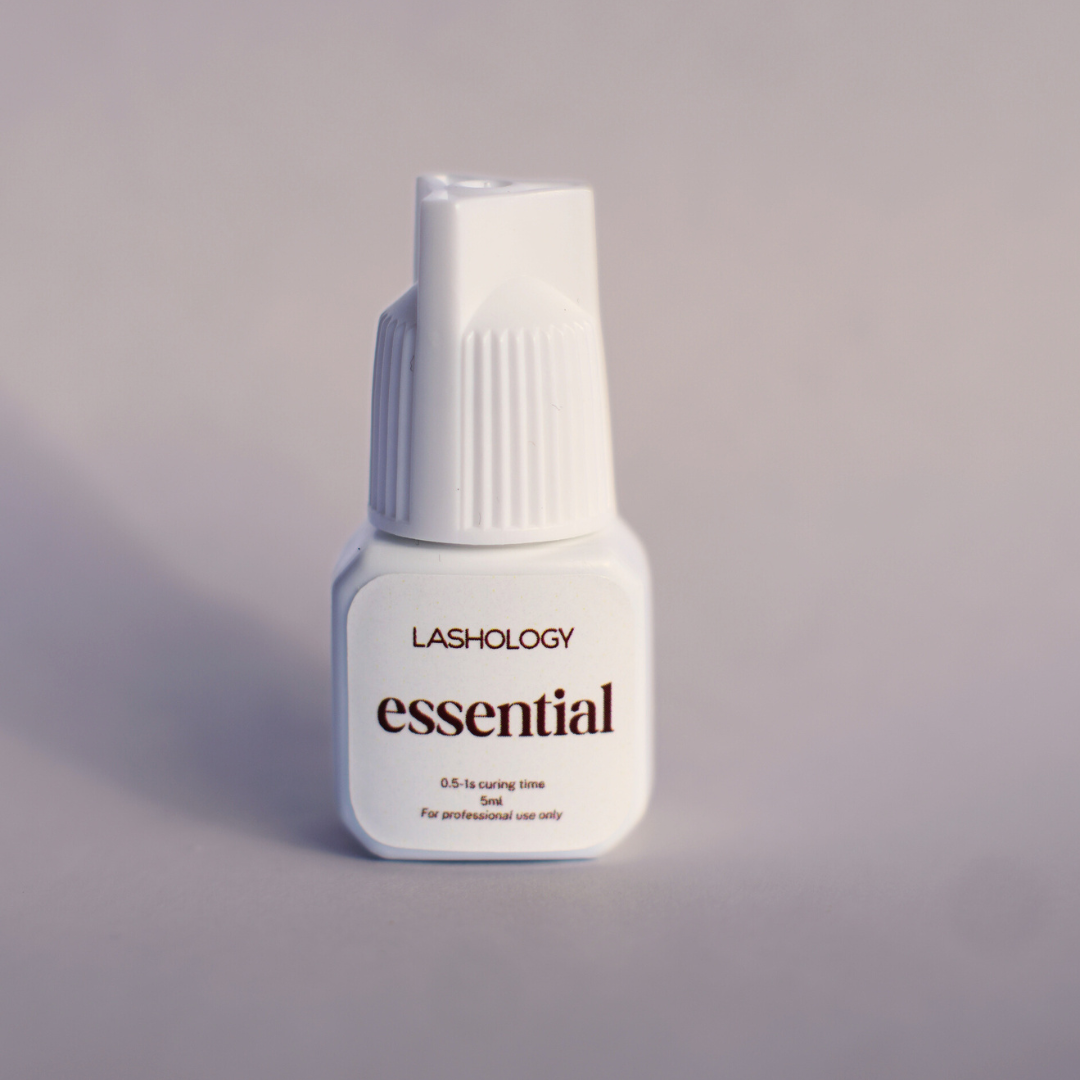 Reliability at it's finest
We take pride in crafting a product that consistently delivers predictable and outstanding results for you. Rest assured, this adhesive performs flawlessly day after day, leaving no room for unpredictability or off days. With our glue, you can confidently create remarkable outcomes every time, making your lash applications a breeze. Trust in our commitment to excellence, and let our reliable glue elevate your craft to new heights.
Unparalleled production process
At the heart of our adhesive's excellence lies a meticulous production process that sets the bar for quality and performance. We leave no stone unturned in sourcing and crafting the finest ingredients to create adhesives that meets our stringent standards. This commitment to precision guarantees that you receive a product of unparalleled quality, becoming an essential tool in your arsenal.